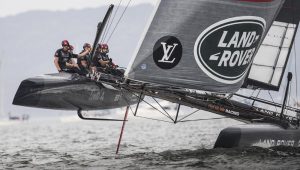 Ainslie is the most successful sailor in Olympic History. He has won 5 consecutive medals since 1996, three of these being gold medals.
After a tense final day in Japan, the British team, Land Rover BAR sailed away with the title after securing a better result in the last race day, finishing 3rd to the Swedish syndicates 4thplace. Winning the 2 day event in Fukuoka on Sunday has sealed the America's Cup World Series for BAR. Now taking 2 bonus points into next year's America's Cup Event. The defending champion, Oracle Team USA, only has 1 bonus point.
Sir Ben Ainslie is aiming to make Land Rover BAR Britain's 1st even winner of the America's Cup.
Land Rover BAR finished this year's series with 512 points. Ahead of double defending America's Cup champions, Oracle Team USA by 19 points. Emirates Team New Zealand have secured 3rd place finishing on 493 points this year after losing their 8-1 lead against the Oracle Team in the 2013 America's Cup.
As for what happens next, by the end of November, Land Rover BAR will have to set up base in Bermuda, ready for the next phase- the qualifying series. The Swedish team, Artemis, the Oracle Team USA, and the Japanese Team Softbank are already settled there.
Unlike the ACWS where identical boats are raced, in the America's Cup the teams are able to design their own boats. From December 28th these boats will be tested to their limits.
Racing will commence on May 26th when Land Rover BAR take on Artemis in the America's Cup Qualifiers. The winner of this race will face Oracles Team USA on June 17th to take home the America's Cup Final.
The America's Cup is the world oldest sporting trophy, dating back as far as 1851. Since the beginning only four countries have won the cup- the United States, Switzerland, New Zealand and Australia. Ainslie is hoping to add Britain to this list!