Is there anything better than travelling at top speed across stunning coastal waters in your very own speed boat? At Pegasus Marine Finance, we don't think there is. Hurtling across wide open stretches of water is exhilarating, and nothing beats mooring up for an afternoon of sunbathing in the shallows after a day spent pounding the waves. With your own motor boat, you can have it all – so it's no wonder it's one of the most sought after recreational pastimes.
Like any big purchase, buying a speed boat isn't something that should be taken lightly. It seems that there are so many different options to choose from, but how do you know which will be the right choice? Well, today we'll be taking you through all the need-to-knows for buying a speed boat. Our helpful guide will explain some of the nitty-gritty things to consider, so you can pursue your high-speed dreams!
What type of speedboat should I buy?
When buying a speedboat, it's important to consider what you'll be using it for. Water skiing and wakeboarding enthusiasts are going to need a powerful craft with a ski tow bar. Wakeboarding boats can also be ballasted to create a higher wake, and are great for pulling inflatable tubes – so if you're buying a tow boat, make sure it's up to the job.
For a boat that's fun for all the family, a deck boat may be an ideal choice. These boats are generally 25-30 feet in length, and the open deck means there's plenty of room for all your loved ones. Whilst there is plenty of space for storage and sunbathing, deck boats have a wide beam and a V-shaped hull, making them a higher-performer to a pontoon boats – this makes them great for swimming and water sports.
If fishing is more your thing, a centre console boat could be the best choice. With plenty of deck space and all-round visibility, centre console boats leave plenty of room for rods and tackle. Generally fitted with more powerful outboards and a deep-V hull to handle choppy coastal waters.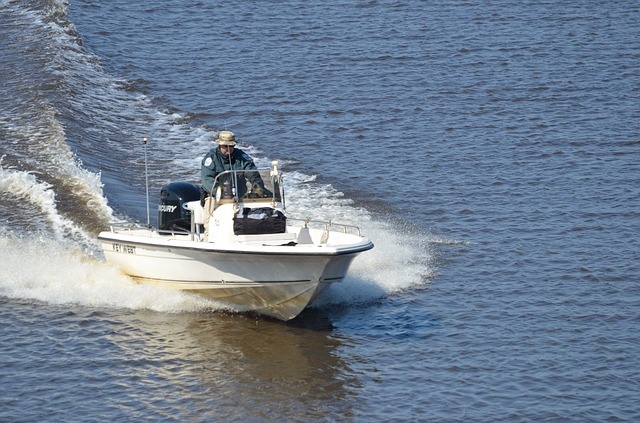 Inboard vs outboard?
Outboard engines tend to be the most popular choice for smaller speedboats, offering versatility, maneuverability and plenty of power. These self-contained motors are mounted on the back of the hull and hooked up to a hydraulic lift and steering system. One great advantage of outboards is the ability to turn the boat with minimal thrust, making docking a doddle!
Inboard engines are either mounted in front of the transom, or inside the hull's midsection and tend to be reserved for larger boats which see more use in open water. They're attached to a propellor and rudder at the back of the boat, which controls the steering. Inboards provide more space on board the boat so if you're looking for space to entertain family and friends, inboard engines are the way to go.
Hybrid sterndrive engines are a popular choice for coastal speedboats, offering the best of both engine options. With the engine mounted inside the boat, sterndrives offer the maneuverability of an outboard with the compact appearance and efficiency of an inboard.
Where can I buy my speedboat from?
When looking at speed boats for sale, it's hard to know who is best to buy from. There's actually no right answer, as it's all down to personal preference. Deciding whether to buy a sparkling new speed boat, or opt for a second hand model will affect what's available. Specialist boatyards are likely to be reputable, and you'll even get some expert advice whilst you're there. Then again, a private seller has no overhead costs and will usually be happy to negotiate a fair deal.
When it comes to funding your boat, opting for motor boat finance with a finance broker like Pegasus Marine Finance means you can maximise your chances of approval – with one application giving you access to multiple lenders and deals.
If you've got a need for speed, don't let the finances slow you down. Boat loans are a great way to avoid pricey up-front fees – getting you back on the water in no time. Take a look at our boat loan calculator to work out how much you can afford: the manageable monthly repayments are customisable to your circumstances so that your bank balance will stay afloat. Apply online for speed boat finance today. The application process couldn't be easier, we'll call you back with a decision within the hour!