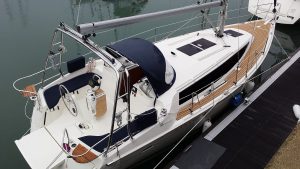 Europe's largest boat show cruises into Southampton next weekend. The spectacular annual event runs from 16th to 25th September; taking over the city for 10 days. Whilst showcasing the world class boats, there will also be a range of other attractions including a hurricane and spitfire air display and festival stages for fashion, shows and music.
Commencing its 48th year, the purpose built marinas of the boat and sailing capital of the UK are showcasing a multitude of brands, boats and equipment. With 60 boats new to the Southampton show, 4 of which are boasting their worldwide launch, the Southampton Boat Show includes some of the most exciting debuts this year. Here are a few of the impressive boats to look out for at the show.
The Marlow Legend 31 has already won the Sail Magazine's "˜Sail Best Boats 2016′ award. It is known by being one of the most remarkable medium sized yachts. Measuring 32'4" yet having the feel of a larger boat with the spacious cockpit making it, comparable to the larger 34 footers. With about 40 years of experience in the quality and design, the innovative easy to sail rig system and the Glenn Henderson hull ensure that performance is a key feature in the Legend 31. The quality fit of the real cherry wood furniture and flooring make for an outstanding finish.
With the 25th anniversary coming up for the world largest manufacturer of RIB's, it seems rude not to mention BRIG UK as the number one best sellers across Europe and Australia. The high skilled craftsmanship to design and build with military precision across the whole range is outstanding. The BRIG Eagle 480, BRIG Falcon 290 "˜T' series tender and the BRIG Navigator 610 are just a few of what they will be showcasing in Southampton.
The ZAR Formenti range are moving forward with the innovative and attractive design of the ZAR 59SL, due to make its UK debut at the Southampton Boat Show next week. Where Boatsmart are bringing the new imported ZAR to the table, incorporating the winning features of the rigid inflatable boats that are in the sports luxury line. The unique ZAR hull design creates great quality, habitability and comfort making it a must see at the boat show.