Fulfill your dreams
Finding flexible yacht finance can be difficult, unless the lenders you're dealing with understand the market. Our professional and experienced team are experts when it comes to yacht loans, meaning they can help you find the best deal for you.
Whether you're looking to spend £10,000 on a small sailing boat or you want £100,000 for a more luxurious model, Pegasus Marine Finance can help. Our simple and competitive yacht financing deals mean that you can focus your attention on enjoying your time out on the water and leave the funding to us – bypassing the upfront payment and repaying your loan over a series of manageable monthly instalments.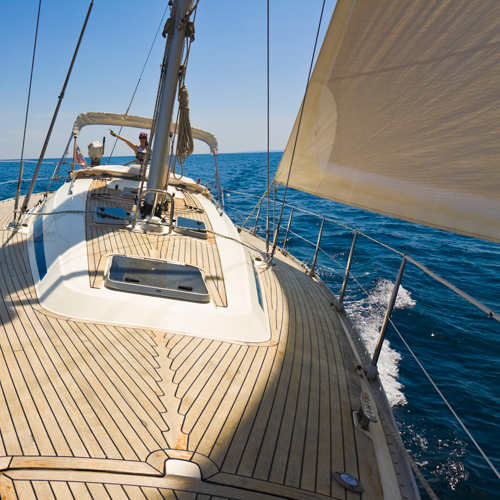 Loan Benefits
Exclusive low rates
Loans of £5,000 – £2million
No deposit required
Terms of 2 – 10 years
Live aboard – No problem
Yacht Finance: How does it work?
While many lenders often require large deposits before they'll even discuss their yacht financing rates, at Pegasus Marine Finance, we're committed to getting you on the water sooner – which means no deposit and no waiting around. Whether you're looking to purchase your new yacht from a yacht broker or a 15 year old craft from a private seller, once approved, we'll get the money into your bank at the earliest opportunity.
Yacht loans: Setting your budget
Buying a yacht is no small investment, and you should consider your budget carefully before hitting the water. The price tag aside, yachts require regular and ongoing maintenance, especially if you're buying used. Fuel and mooring costs can add up too, so make sure you've factored these into your monthly budget – ensuring you can keep up with your repayments and enjoy your yacht without any unwanted financial stress.
Our yacht finance calculator is an essential tool when it comes to working out your numbers. Simply enter the amount you want to borrow, your credit rating and your desired loan term and we'll give you an estimate of how much you can expect to repay every month against your loan.

Questions? CALL 0800 066 2882
Our experts are always ready to help
Why apply through a yacht finance broker?
While there are a select number of yacht finance lenders in the UK, applying directly comes with its drawbacks. As a specialist yacht finance broker, Pegasus Marine Finance is able to quickly and easily source the best finance deals from a wide range of lenders – saving you the legwork of approaching numerous lenders directly and helping you find the perfect yacht loan for your needs.
Many lenders also have very specific and strict criteria and, if the borrower fails to meet these, it could result in a finance rejection – leaving a "˜mark' on your credit score and potentially decreasing your chances of successfully securing a yacht loan in future. When you apply for finance through a yacht loan broker, you can increase your chances of success – as we check multiple lenders with one application.
Choosing a yacht
If you're at home on the water and have been thinking about buying a boat, a yacht might be exactly what you're looking for. Renowned for their grandeur and splendour, yachts can bring a touch of luxury to any lifestyle – but make sure you consider all aspects of owning a yacht before you make your purchase.
"˜Yacht' is a loosely defined term, with motor yachts and sailing yachts of different sizes for sale. Yachts come in all shapes and sizes, with the majority suitable for coastal use – while larger yachts are capable of entering open water and even crossing oceans. Before you consider investing in a yacht, it's important to consider what you want to get out of owning one.
Sailing yachts
Incorporating everything from small dinghies and sailing boats to large blue water yachts over 60ft in length, sailing yachts are a popular choice for leisure cruisers and those wanting to learn the art of sailing. Novice sailors are encouraged to start small before investing in a larger vessel – with day and weekend yachts under 30ft in length offering plenty of space for shorter outings on the water. If you're planning on sailing around the world or living on your yacht for extended periods, you might want to consider something larger to withstand the testing weather conditions frequent in open water.
Motor yachts
Typically reserved for coastal and leisure cruising, motor yachts are the ultimate in comfort and luxury – often featuring spacious staterooms, ensuite facilities and fully equipped kitchens. A number of larger motor yachts are also suitable for use in open water, but are limited to the range of their fuel tank. While a working knowledge of driving a boat and ocean navigation is necessary, motor yachts offer a more "˜hands-off' experience than sailing – with many modern yachts being easy to drive and operate.
Where can I buy my yacht from?
Once you've decided on the type of yacht for you and worked out what you can afford, it's time to look for a potential purchase. The most popular routes are through private sales or marine brokers and boat yards, and the internet is a great place to start your search.
We're able to offer finance for all yacht sales, and we'll even check out the seller's credentials on your behalf. If you decide to buy privately, we can check any outstanding finance that might be held against the yacht – or, if you decide to buy through a broker, we can assist with communication and paperwork.
What's next?
Once you've settled on the perfect yacht and you're happy with your finance quote, simply let us know you're ready to proceed and we'll arrange to get your documents signed. We may even be able to transfer the funds the same day, and can pay the seller directly or transfer the money to you. We aim to complete the process as quickly as possible, so you can spend less time buried in paperwork and more time planning your first adventure on the water!
(8.9% APR illustration)
Apply Now
This does not constitute a quote, rates may vary depending on personal circumstances.