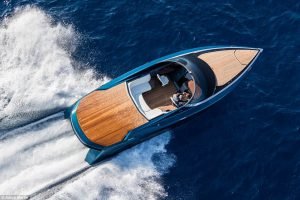 Best known for its luxury cars used in the James Bond series, Aston Martin is now venturing into the marine market. Keeping to tradition with its sleek curves and purring engines the new powerboat was unveiled last week at the Monaco Yacht Show.
Aston Martin collaborated with Quintessence Yachts and naval architects Mulder Design to construct their first extraordinary powerboat. The new 37 foot day cruising powerboat is offered in two versions; the AM37 and the slightly faster model AM37S.
The phenomenal range of on-board technology reflects the luxurious experience the AM37 has to offer. With remote controlled devices operating the air conditioning, fridge and coffee machine plus hi-tech navigation, control monitors and entertainment systems. This extraordinary powerboat even has advanced interactive voice control fully integrated.
Both models can accommodate seating for 8 people as well as coming fully fitted with mood lighting and an on-board toilet. Although primarily used as a day cruiser the AM37's table can be converted to a bed for those longer trips.
If you do want to cover the cockpit, 3 carbon panels can be electronically operated using a key fob, or synchronised with Apple Watch. The otherwise unseen carbon panels are only revealed when the wooden deck at the back of the boat slides across, allowing the cover to lift.
Owners can customise their powerboat just as they do with their cars. Aston Martin is using marine specified paint to ensure the durability and quality of their designs. Owners can even match the colour of their boat to their other vehicles to create a unique vessel just for them.
Resulting from 2 years of research and development the Aston Martin powerboat will range from $1.6 million. The construction for each unique vessel can take anything from 18 months to 32 weeks dependant on the level of customisation that the owner wants.
Let us know if you are looking to buy a boat! Our helpful team can secure the finance for you. Just check out our calculator page and apply now.