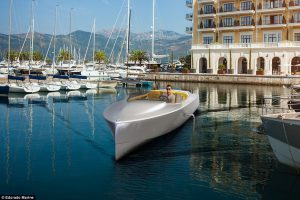 With the world of e-rides taking over, the marine industry in jumping 'on-board'. It all started with cars and motorcycles. Now boat motors are getting an electric upgrade. This £121,000 Edorado Marine 7S electro-foil speedboat is planning to involve the boat market.
The innovative combination of e-motor, battery pack and hydro-foils to propel the speedboat is outstanding. It is even set to include a glass dash and integrated audio system inspired by automotive interior. Edorado Marine 7S is designed in collaboration between Edorado, design studio Springtime, naval architect Peter Bosgraaf and specialist Tom Speer.
Edorado intends to make their electric boat, a faster; more reliable and cost effective option than those already on the market. With top speeds expected of 40 knots and travelling on 50 miles on a single charge. The hydro-foil design along with the electric system minimises the power needed to reach 40 knots. In comparison, conventional speed boats can travel up to twice the speed. However they aren't as clean.
They aren't the first company to produce an electric boat. In the past electric boats have struggled with range and power- this is a key focus for Edorado. Hydro-foils haven't been use in a speed boat before. Although in 2014, Slovenian engineers used hydro foils to create a small electric catamaran. Hydro-foils lift the hull above the waves to create a smooth ride with greater efficiency in speed and range.
Although they aren't currently on the market, Edorado are taking pre-orders by invitation only. Be prepared for the construction of their first production series in 2018.
If the Edorado has sparked your interest and you are looking to buy a boat; let us know. Our helpful team can sort out your finance. It's a simple and easy process. All you need to do is visit out calculator page and apply now.