Today, we're taking a look at some of the best Jet Ski models out there for 2015. With top brands like Yamaha, Kawasaki and Sea-doo all in the fray, this battle of the brands is going to be a good one. Ready to hit the waves? Let's go.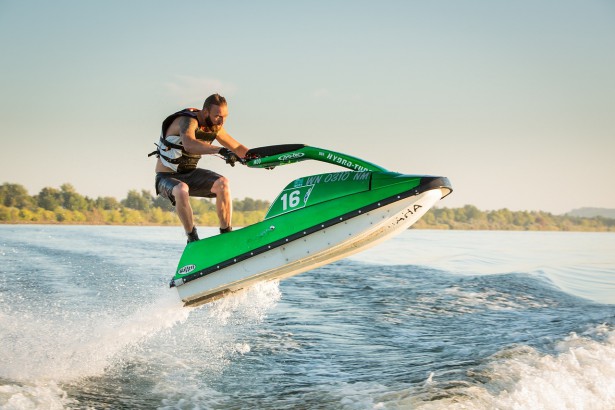 Sea-Doo's Answer for the Newcomers
Seadoo Jet Skis are one of the leading brands in the world of watercraft. With their innovative approach to design, power, performance and fun, it's not hard to see why. However, what really makes Sea-Doo stand out from the crowd is their latest release – the Sea-Doo Spark. Its innovative design aims to tackle many of the negative aspects of owning a jet ski – including expense, size and fuel consumption. With less power, weight and a significantly lower price tag and running costs, it has to be the best Jet Ski to buy for newcomers. Yet you don't have to compromise on the fun factor as it still packs plenty of power and agile handling.
A World of Experience
If you're a seasoned Jet Skier, you may look to the Yamaha Jet Ski range for your next PWC purchase. Yamaha Jet Skis consistently deliver on power, performance, handling and style, and are a tough contender. With a wide range of Jet Skis on offer, they have something to suit every need. The Yamaha range includes the aptly named High Performance, Sport, Recreation and Racing product lines. For great handling, with one of the few stand up Jet Skis on the market, feast your eyes on the Yamaha Waverunner Superjet – which combines affordability, agility and power to create one of the most fun rides on the water. For a more luxurious ride, you can get all the mod-cons and plenty of comfort with a Yamaha Waverunner FX Cruiser – with room for three and over 200 horsepower behind it, the extra weight won't be an issue.
For the speed freaks
If you're an adrenaline junky, then you're in for a treat with the Belassi B3R, which is tipped as the most powerful and possibly the fastest Jet Ski on the market, topping 80mph with its three-cylinder turbocharged engine. You're sure to leave the rest of the Jet Skiers bobbing in your wake with this speedy ride.
Affordability from a Kawasaki Jet Ski
For affordable Jet Skis, take a look at the Kawasaki range. Whilst they don't have such an extensive range as Yamaha, Kawasaki still deliver on fun, performance, power and handling in each and every model they produce. Our favourite, for a good all-rounder has got to be the Kawasaki STX 15F, combining a 160bhp motor and lightweight hull to deliver a Jet Ski that's easy to handle and incredibly fun to take out on the water.
In terms of the best Jet Ski brand to buy, they all have plenty to offer, so it really comes down to personal choice and what you're looking to get out of it.
If you've found what you're looking for, but need some help with Jet Ski finance, let Pegasus Marine Finance help. Our quick and simple application process, means you can apply now for a no obligation quote and we'll come back to you with a decision in under an hour – alternatively you can calculate what you can afford to borrow with our easy to use boat finance calculator.