Whether you're a keen amateur sailor or you've never laid hands on a mainsail in your life and you're looking to start a new hobby, you'll find everything you need to know about sailing in the UK right here.
In today's post, we're bringing you all the whats, wheres and hows associated with sailing. From finding beginners' sailing courses to buying your own sailing vessel and touring the UK's best sailing spots, we've got all the info you'll need!
Where can I learn to sail?
If you've never experienced the thrill of cutting through the water and you're interested in getting started, there are plenty of places to learn to sail. Sailing is often seen as an exclusive club, due to the number of private marinas and yachting clubs around – however, beginners are welcomed with open arms and nearly all clubs offer tuition. You don't need anything to get started, as most sailing schools can provide all of the clothing and safety equipment you'll need.
The Royal Yachting Association (RYA) offers accredited sailing tuition through a number of sailing schools around the UK. Adult beginners are welcome, with three "˜levels' to work through as you progress. Find out more about beginners' sailing courses and locate your nearest accredited sailing school right here.
Want to give it a go before you commit to a course? There are many places around the UK where you can try sailing for free, so there really is nothing stopping you when it comes to hitting the water for the first time!
Do I need a boat licence to sail?
Boat licences are a confusing and often misunderstood topic. There are a number of licences available, and we'd recommend any keen sailor invests in the appropriate training to acquire one – especially if you want to take advantage of your newfound skills on holiday. The International Certificate of Competence (ICC) is widely accepted across Europe, and a number of RYA courses offer the training required to pass the test. It's worth noting that you'll need to show proof of this licence if you plan on hiring a yacht abroad.
Whether or not you'll need a licence in the UK, however, largely depends on where you plan on sailing your vessel.
When it comes to coastal waters around the UK, a sailing licence isn't required. However, it's worth noting that the sea can be extremely unpredictable, and sailing in coastal waters should only be attempted by those with experience – so it's worth seeking out the appropriate training. There are also a number of maritime regulations that coastal sailors must abide by – check out the RYA's guide on pleasure craft regulations here.
If you're planning on sailing one of the UK's waterways and river systems, such as the Norfolk Broads, you will need to register your boat – and this usually requires you to hold a boating licence and valid insurance. The best way to find out is to ring your local authority before hitting the water.
While many of the UK's lakes don't require any kind of licensing or registration for sailing dinghies, many yachts and small sailing vessels are rigged with backup outboards (or have their own inboard engines for windless days). If your boat falls into the powered category, even if you're planning on heading out under sail, you may need to take the appropriate registration steps.
While licensing may seem like a bit of a grey area, safety is black and white – and we'd always recommend seeking out the appropriate training, certification and insurance for any vessel you plan on sailing. Getting a boat licence isn't as taxing as it may seem and, after a little bit of paperwork, you'll be free to sail wherever the wind takes you!
How do I buy my own sailing boat?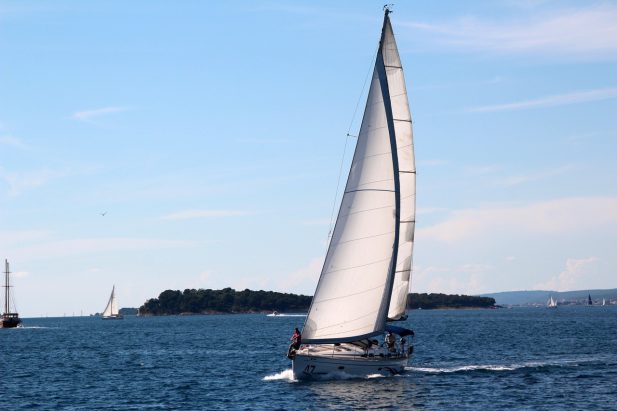 If you're hooked after your first lesson or you've completed a sailing course, you may be looking to buy a sailing boat of your own. Nothing beats the freedom of being able to head out on the water whenever the feeling strikes, and owning your own boat can be both personally and financially rewarding – especially if you're regularly paying to hire a vessel.
From Laser Class dinghies to liveaboard lake boats and multi-berth bluewater yachts, there's a diverse range of sailboats on offer. While beginners may want to start with something small, those with a few hours on the water under their belt will no doubt want to upgrade to something more substantial.
Buying your own boat, however, can be a costly affair – with upfront prices often making boat ownership nothing more than a dream for most. That's where marine finance comes in. With a number of no deposit finance options available, you can sail around the upfront costs and break down the cost of your sailing boat into a series of manageable monthly repayments.
Offering marine finance UK-wide, the Pegasus Marine Finance team is uniquely positioned to help you get out on the water faster. While many yacht finance providers have strict criteria and a lengthy application process, requiring surveys and a list of checks as long as your arm, we like to keep things simple. And with yacht financing rates starting from as little as 7.9% APR, you should be able to find yourself a great deal with minimal fuss.
It takes just two minutes to complete our simple online application form and, once you've submitted yours, we'll aim to get back to you within the hour with a decision. We may even be able to transfer the money on the same day – so you can find and secure your dream sailing boat on the spot!
Apply now for a quick decision
If you're still weighing up your costs, why not try our boat loan calculator? Simply enter how much you want to borrow, how long you need to repay it and your credit score, and we'll give you an instant estimate of your expected monthly repayments.
Related: sailing tips for first-time boat buyers
Where can I go sailing?

You're spoilt for choice when it comes to sailing spots in the UK – with plenty of inland, coastal and offshore waters to explore – but with so many differing regulations around, you might be asking yourself "˜can I sail my boat anywhere?'. For the most part, the answer is yes – as long as you've registered your vessel for that body of water (if required). Before heading out, call your local authority to check the requirements.
To get you started, we've put together a list of three of the UK's most popular inland sailing destinations – arming you with a little inspiration to take your boat away for a weekend on the water.
The Lake District
The Lake District is a perfect place to learn how to sail, offering leisurely sailing on relatively calm waters. Lake Windermere is a great place to start and, as one of the most popular water sports hubs in the region, it attracts keen sailors throughout the summer season.
One of the biggest perks you'll find when sailing in the Lake District is the sheer number of boating lakes available – meaning you're guaranteed to find a favourite spot.
Check out this handy resource to find out which lakes allow sailing, and whether or not you'll need to register before hitting the water.
The Norfolk Broads
This interconnected hub of lakes and rivers makes for a perfect afternoon spent on serene waters – and with over 300km2 of wetland on offer, you won't run out of places to explore.
If you're bringing your own boat to the Broads, you'll need to pay a "˜short visit toll' and have third-party insurance in place (if your boat has a block area of over 6m2) before you can set off.
Find out more about toll fees for the Norfolk Broads here.
Loch Lomond
Loch Lomond is Scotland's outdoor activities capital. With everything from mountain biking to water skiing on the cards, sailing is but one of numerous available activities – making it the ideal destination for an active weekend away.
Loch Lomond Sailing Club boasts a busy calendar of races and events for its members – so if you take a liking to the region, you may want to become a regular member. With stretches of open and exposed water, as well as quieter inlets, the Loch offers plenty of variety to please sailors of all kinds.
Find out more here.
Where can I launch my boat?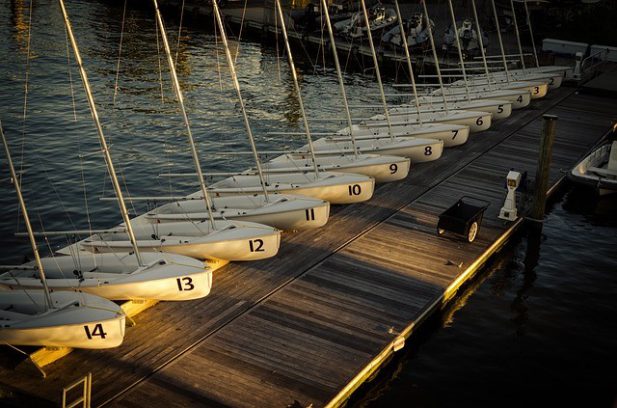 So, you've bought your own sailing yacht and trailer and you've got your pride and glory parked up on your drive. At this stage, you might be asking yourself, "˜where can I launch my boat?' The UK has an abundance of coastal and lakeside launch ramps which will let private owners launch and retrieve their boat for a small fee, or as part of an annual marina membership. There are, of course, a number of public boat ramps where you can launch your sailing boat for free – however, most marinas and sailing clubs tend to be private property.
Check out boatlaunch.co.uk to find your nearest slipway, as well as relevant pricing information.
Now you're armed with all of the information you'll need to get started, what are you waiting for? From leisure cruisers to thrill-seekers, sailing is what you make of it and offers something for everyone – making it the perfect activity to try this summer.