Sailing enthusiasts will be the first to tell you about that joyous sound of the ocean waves lapping against the hull, and the captivating grace of a sail lifting in the summer breeze. The art of yachting is a skill that requires practice and attention – and, if learnt well, dedicated sailors will soon reap the rewards.
The liberating feeling of sailing away on a yacht of your own is second to none in the boating world. What could be better than being able to whisk your family away on a one-of-a-kind holiday and exploring the world's waters with absolute freedom? From dropping anchor in a secluded paradise to mooring up in a seaside resort – this exhilarating pastime means you can have it all.
Once you know how to sail a boat, the world is your oyster. That's why today, we'll be giving you the low-down on how to make the most out of sailing. Today's post covers everything from the sailing basics to staying safe on the water. Happy boating!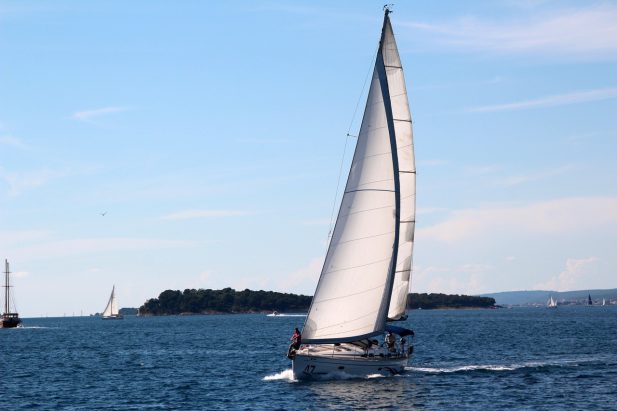 Learn to sail
Sailing is easy to learn, but developing the skills of the sport can take years of practice. Learning from experienced sailors is important, which is why taking a Royal Yachting Association (RYA) approved course on the sailing basics is paramount for new-starters. There are a wide range of sailing schools that teach sailing for beginners, so take a look at the sailing programmes available near you.
The size of a sailboat is going to affect how you learn so, if possible, opt for a smaller and more manageable vessel which will be easier to handle as you get to grips with the basics. Fewer ropes and sails means that the boat will react quicker and be far easier to navigate, making it an ideal option until you've gained the expertise necessary to skipper a larger yacht.
Equipment and sailing gear
Before splashing out on kit at your local boat yard or marine supply store, think about what you need to get started. As you gain confidence in sailing, you'll soon realise what clothing, gear and equipment works best for you and your individual yacht – so don't over invest before you've even made it onto the water.
Sail in something comfortable and be prepared to get a little wet – you'll need a rain jacket, several layers and non-slip, closed toe shoes. Keep your valuables safe on dry land, and any long hair should be tied up. If you're learning aboard a sailing club's boat then life jackets will be provided; but if your lesson is taking place on your own yacht, then you'll need to invest in a buoyancy aid of your own.
As you spend more time on the water and venture into open seas you'll want to add sailing gloves, neoprene boots and a wetsuits to your wardrobe – especially in colder waters or winter months. If you're sailing in extreme conditions and cold waters – it may be worth investing in a dry suit too.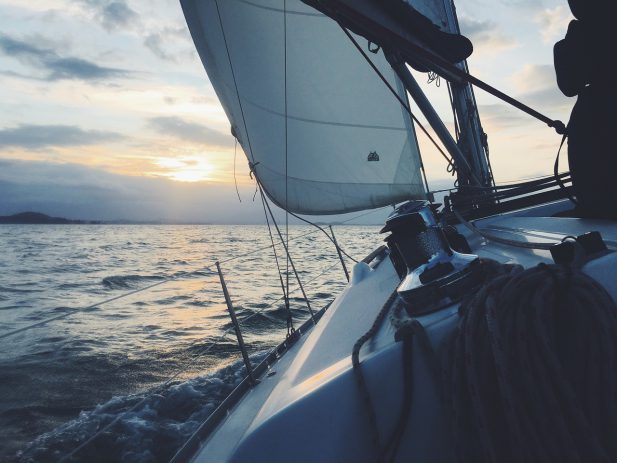 Staying safe
Whether you're a sailing professional or a complete novice, staying safe is the most important thing for any yachter. Before heading out on the water, you'll need to be competent in basic swimming and sea survival skills, and ensure your yacht is stocked with the right safety equipment. Remember, however unlikely it may be, capsizing will always be a risk on the water. In controlled conditions, practice how to handle a capsized boat – just in case of an emergency!
As a beginner, it's recommended that you keep to quieter and calmer waters until you've built up your confidence – so always keep an eye on the weather and traffic before raising the anchor. Tranquil seas are ideal for anyone trying their hand at sailing, so properly researching the sailing weather forecast means you can master the sailing basics in safety before taking on rougher conditions.
Are you ready to embark on the journey of a lifetime? Learning to sail in a boat of your own will give you a new lease of life, and we're sure that you will never look back. That being said, buying a boat can be expensive business. Avoid those hefty upfront costs by purchasing a vessel on yacht finance. Get your personalised online quote with our non-committal marine finance calculator – or if you're ready to apply, simply complete our online yacht finance application form. One of our knowledgeable and experienced advisors will call you back within the hour, meaning you could be hitting the water